Overview
PetSmart mobile iOS app redesign based on a Nielsen Norman Group's Usability Heuristics comprehensive evaluation. I worked with one other designer (Lisa D.).
Brief: 
To
 evaluate the usability of an existing digital product by conducting a heuristic evaluation.
Product:
 PetSmart mobile iOS app
Skills:
Heuristic Evaluation, Product Redesign, Effective Presentation, Project Management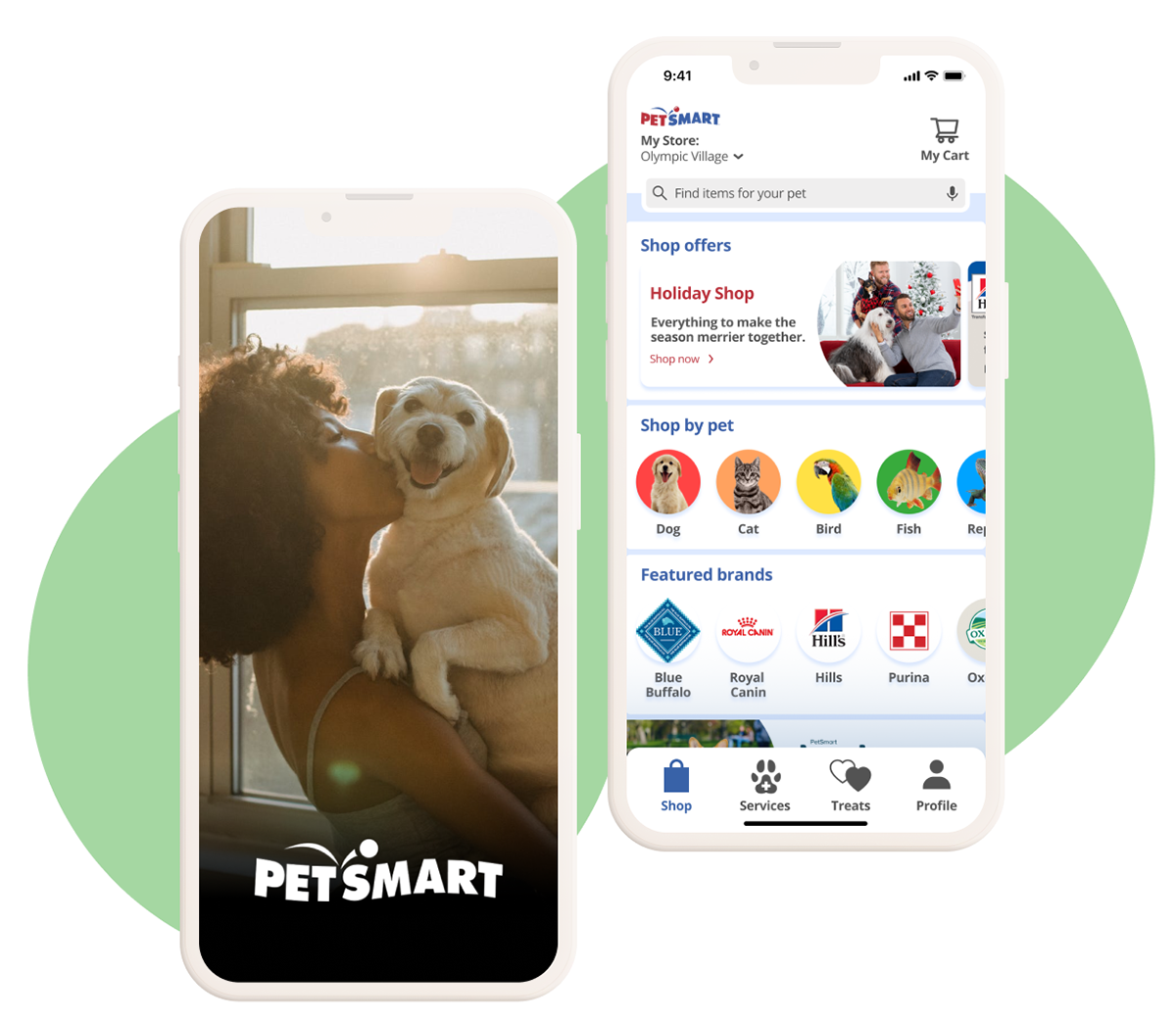 Product Summary
To add value and resourcefulness for their customers, PetSmart built a mobile app for every step of a pet parent's journey. However, these values and motivations are poorly reflected on the app.
While ranking
#83 for shopping category
, the PetSmart app currently has a
rating of 2.5 Stars.
Users have left reviews saying how the app is "very aggravating to use", how it's "horrible" and how it's "not user friendly" at all.
Evaluation
We decided to pursue the PetSmart app's usability evaluation, with a focus on the browsing until the check out process. 
Tasks include
browsing
for guinea pig pellets,
adding to cart
and
completing the checkout process.
• User control and freedom
• Consistency and standards
• Flexibility and efficiency of use
• Aesthetic and minimalist design
It's important to note that the overall visibility of system status is good, and that navigation bar can be improved across all pages. 
We observed a total of
28 violations based on 6 heuristics.
With the high number of occurrences, we rate this app to be at least a
2 out of 4 on the severity scale.
They are mostly cosmetic & minor usability issues, however, they are numerous.
Design Improvement Plan
We considered the amount of effort and value required for each opportunity and addressed the ones relevant to our task flow using this
Design Prioritization Matrix.
We prioritized the tasks accordingly:
• Low Effort, High value
• High Effort High Value 
• Low effort, Low Value 
• Low Value and High Effort 
Brand Guide
We made sure to follow PetSmart's Brand Guide, with the font being
Open Sans
and the colours being white, blue and red. We also redesigned the app using an
iPhone 13
dimensions.
Landing Page
• moved PetSmart logo aside, standardized the typography, scroll and button components for aesthetic and consistent design
• added store location option for user control
• added voice input for accessibility
• consolidated Treats page and Treats Trails page on navigation bar for efficiency of use
Search Results Page
• added a more comprehensive sorting and filter option display for greater user control and flexibility
• added a keyword display for recall
• included a display of the existing star rating system for extra help and recognition
Filter Feature
• organized filter options into distinct categories for efficiency of use
• added sticky Reset and Save buttons for user control
Item Page
​​​​​​​
Resolved Violations
• added back button control for user control
• improved placements of buttons for efficiency of use
• removed promotions for now to standardize with other apps
Add to Cart Page
• removed the prompt to pick delivery option right after clicking the add to cart button for user control and freedom, and flexibility and efficiency of use
• delayed the delivery prompt until the checkout process where it's usually found for consistency and standards
• added an active indication to the cart icon to show added item, but kept the same page for recognition

Cart Summary Page
• standardized QTY, Delete and Checkout buttons for consistency
• added custom donation amount for flexibility
• shifted the Promotions to this page instead, with a suggested applicable coupon
• removed premature option to pay with Apple Pay for efficiency
• added Treats modal, instead of previous display on every page to save screen real estate
Checkout Process Page
• added progress bar and minimal email sign up for recognition
• added flexible payment options 
• added confirm page and summary page
• moved the Shipping Options page within the checkout process for a more logical progression, and added DoorDash information icon for help and documentation
High Fidelity Prototype
• search "guinea pig"
• click to see available filters & go back
• click Oxbow adult guinea pig pellets
• add item to cart, check cart summary  
• checkout item & skip Treats modal
• complete checkout process
Conclusion
Our team was able to resolve every task on our Design Prioritization Matrix, as well as the tasks that came up during the process. The PetSmart redesign provides a more seamless and delightful experience for both new and existing users. With this, we hope to alleviate the common frustrations based on real customer feedback on the App Store, increase the app star ratings, and increase app downloads.  

Although challenging due to the numerous violation occurrences, we believe that the redesigned version has resolved the major task interruptions and violations. With more time, we hope to conduct at least 2 rounds of usability tests and create high-fidelity iterations accordingly to ensure proper usability.